Lynton & Barnstaple Railway
The Lynton and Barnstaple Railway officially opened on 11 May 1898 . The narrow gauge (1'-11½" – 600mm) was intended to reduce the cost of construction with the line following the natural contours and curves of five chains radius. The total length was 19 miles with a ruling gradient of 1 in 50. Track, rolling stock and buildings were to high standards. In Southern Railway days a number of improvements were made but this did not lead to more revenue at a time when road traffic was becoming more reliable and cheaper.
In 1935 with the imminent threat of closure more travellers did come to the line but the end was inevitable and the last train ran on 29 September. The railway was dismantled in a few months.
After some false starts the L&B reopened in 2004 with a short stretch of track at the original Woody Bay station. The work of volunteers and a small number of permanent staff has now seen the line extended for a mile to a new station at Killington Lane . Some items of original stock have been obtained and there is an ongoing programme to extend the line and build locomotives and carriages.
Outing to Lynton and Barnstaple Railway
2 July 2008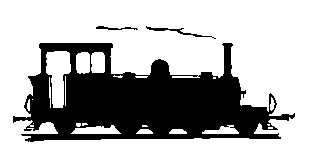 The Wells Railway Fraternity is celebrating its 40th anniversary this year and for much of its existence has used as its logo (for no particular reason) a silhouette of one of the narrow gauge locomotives of the Lynton & Barnstaple Railway. Partly for this reason and partly on account of a most informative lecture on that railway in 2006, it was most appropriate that a visit was made to North Devon on Wednesday, 2nd July, with the main object of seeing the progress being made in reviving the little railway.
A party of 17 members, partners and friends assembled at Templecombe station to catch the 09.14 South West Trains service to Exeter. After a break for morning coffee, we transferred to the branch line train (now operated by First Great Western) to Barnstaple where we arrived punctually at 12.30 p.m. Two minibuses awaited us to take us first of all to Fremington Quay but half a dozen or so stalwarts opted to walk the three miles to the Quay along the former trackbed of the London & South Western Railway line to Torrington (later extended by the Southern Railway to form its North Cornwall line). This trackbed runs alongside the Taw estuary and now forms part of the Tarka Trail long distance footpath and cycle track. No sooner, however, had the intrepid walkers set off than a heavy rain shower started – the only one in the whole day which was otherwise blessed with fine weather. Fortunately shelter was near at hand in a subway under the modern viaduct carrying the Barnstaple Western By-Pass over the River Taw until the downpour abated and the sun reappeared.
At Fremington Quay, once reputed to have been the busiest port between Bristol and Land's End, the old railway station area has been most imaginatively transformed into a Visitor Centre and Cafe. After a splendid lunch there, our minibuses took us to Woody Bay station, one of the original 'Nuremberg Chalet' style buildings which still survive and now the headquarters of the revived Lynton & Barnstaple Railway. Following a trip over the reopened stretch of line, our train being hauled by 'Statfold', an exquisite little steam locomotive only built in 2005 but to a traditional late Victorian industrial design, a cream tea was enjoyed by all in a marquee on the lawn behind the station building.
Returning to Barnstaple by minibus, a diversion was made to view the impressive Chelfham Viaduct, of eight arches and 80 feet high. This is built in the pale yellow brick characteristic of the district and was restored as a Millennium Project in 2001. Despite the new ambitious plans of the L&BR Association to reopen '10 miles of line in 10 years', we wondered how long it would be, if ever, before trains could be seen passing over this elegant viaduct once more.
Our return was by train from Barnstaple, changing again at Exeter St David's, and arriving back at Templecombe just after 9.30 p.m. A long day out but a most interesting and enjoyable one.