Download Railwells 2017 Show Guide here
Railwells 2017 including Scalefour Southwest 25 and Special Railwells 40 Exhibits
Organised by the Wells Railway Fraternity
The Town Hall,
Market Place,
Wells,
Somerset. BA5 2RB
Saturday August 12th, 10.30 to 5.30
Sunday August 13th, 10.00 to 4.30
Admission Adults £6.00, Accompanied Child (15 and under) Free
Wheelchair user & Child £4.00
For further and up to date information – Organiser Chris Challis 01749 938362
Railwells 2017
In 2017 Railwells is 40. Have you got any photos of the Railwells exhibition especially the early ones. Please scan and send via the Railwells web site for a special display.
Railwells started as a one day show in 1978, has grown into a very special show in the model railway calendar. Always on the second weekend of August and always in Wells Town Hall, this we believe to be a record . Many shows have been running longer but have changed date or venue. This year is also the 25th time Scalefour Southwest has been held, always as part of Railwells.
To make this event special, a selection of exhibits that celebrate the past, as well as those that show of the excellent modelling of today, have been put together. Most of the exhibitors who attended the first show are no longer around. The Somerset & Dorset Railway Trust and the Great Western Society, who were at the first exhibition are both attending.
Maurice Shaw, a long time chairman of the Wells Railway Fraternity, was involved in the first five shows. He was a fine scale Gauge1 modeller, and in the 1930's chairman of The Model Railway Club. It is therefore fitting that the Gauge1 layout St Petroc and The Model Railway Club's layout Happisburgh Goods are attending.
Colin Binnie was a demonstrator of 16mm garden railways at Railwells for over 30 years. For those of you who remember him you will understand why the Emett inspired layout 'Scratchy Bottom Halt' has been invited. Colin modelled many eccentric model railway items solving problems as he went. Has anyone else made a 6 coupled loco that ran, with every wheel a different size?
Iain Rice has exhibited at Railwells many times over the years, with layouts and as a demonstrator, he is attending this year with his Cornish china clay layout Trerice
Doug Richards has attended Railwells numerous times in the past with his 3mm layouts, and attends this year with his latest offering. The layouts this year span nearly 100 years from an early Seaton, through the 1959/60 Sidmouth to the two modern image layouts. There are no layouts available from the first show, but the H0e Maraizellerbahn layout of Pat Challis, at 38 years old is from this period, and has attended Railwells twice before.
Look out for the display of  Railwells Past  in the corridor to the Indictment room, to see something of the past 39 years . This year's exhibition is the second of three anniversary shows. Last year was the 50th anniversary of the closure of the Somerset & Dorset Railway, and next year is the 50th anniversary of the Wells Railway Fraternity, organisers of Railwells.
Please note for show parking follow the Railwells parking signs as you enter the centre of Wells, Somerset.
PARKING
CHANGE TO RAILWELLS PARKING
SATURDAY CAR BOOT SALE PARKING £3.00 ALL DAY
SUNDAY PARKING FREE ALL DAY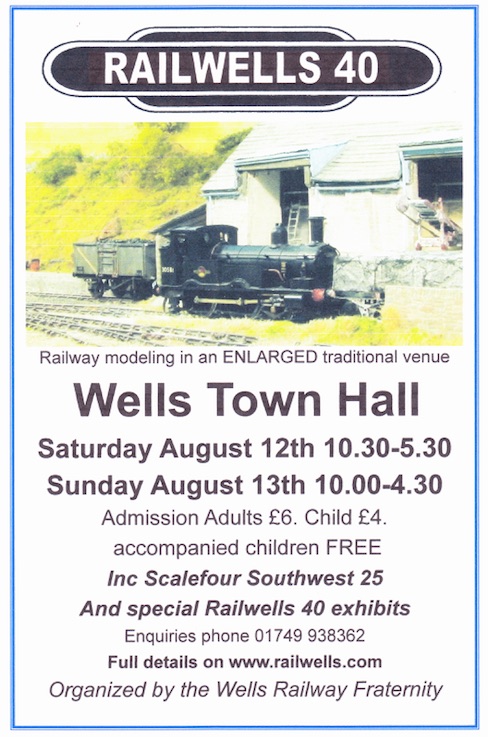 Updated 28.06.2017
Getting to Scalefour Southwest/Railwells by public transport
There is now a half hourly bus service to Wells from Bristol. The bus is the Mendip Xplorer service 376, marked from Bristol to Wells, Glastonbury and Street. For those travelling by train, the bus stop at Bristol Temple Meads is at the bottom of the station approach on the right. In Wells the bus stops at the HSBC bank 150 yards from the Town Hall. For the return journey, it is best to go to the Wells bus station, or ask on the exhibition ticket office.
The one exception to the half hourly schedule is there is no bus on Sunday at 1700 hrs; it skips this time from 1630 to 1730 and then goes on half hourly. The bus is normally a comfortable double decker, appropriately in a dark shade of Somerset and Dorset Railway blue.
2017 Layout list   as at 28.06.2017
P4     Sidmouth    Richard Harper
BR Southern Region prototype terminus set in the summer of 1959/60
P4     Seaton         Simon Harris
The original station before it was extended for holiday makers
P4     Trerice        Iain Rice
Depicts Cornish china clay pan dries c1960
P4     Longcarse West     Simon Bendall
Sidings set at Alloa central Scotland in 1983
P4     Waterloo St          James Dickie
Inspired by the Waterloo goods branch in Aberdeen
Gauge1   St Petroc         John Green and Tony Massey
A compact terminus set in Cornwall in the 1940's
Gn15 Scratchy Bottom Halt     Mike Walshaw
Rowland Emett inspired layout
Og     Happisburgh Goods        The Model Railway Club
BR ex-Great Eastern goods yard set in the 1950's early 1960's
EM    Hebble Vale          Karl Crowther
A cameo set in Halifax, mills, coal drops and a goods shed
Ng     Mill Lane TMD    Phil Smith
Another new micro layout from Phil, this time a 1980's diesel depot
HOe   Maraizellerbahn    Pat Challis
Built 38 years ago by husband Chris and 2 friends, as Pat liked the HOe small and quaint locos and stock
3mm  Mendip       Doug Richards
Doug has exhibited a number of layouts in past years at Railwells, this is his latest
3mm  50 x 50 Shades of Grey   Nick Salsman
50cm x 50cm scene in atmospheric shades of grey
2mm  St Ruth       Midlands Group, 2mm Scale Association
Based on Penzance Cornwall, running the September 1965 timetable
Ng     Vale of Oxbury     Carl Woodwards
A busy Western Region junction  set in the 1960's
Demonstrations booked to attend 2017
Modelling in EM                                                Andrew Ullyott
How to solder                                                    Roger Sawyer
Track construction & working in S7                     The Scale 7 group
Modelling the Broad Gauge                                 Ashley Phillips
2mm Association Roadshow                                Paula Martin
Modelling in Scalefour                                       Mike Ainsworth
Kit and scratch built wagons                                John Chambers
Modelling in Plastikard                                       Geoff Kent
Modelling Gauge1                                              Simon Castins
Modelling in 3mm                                              Andrew Shillito
Etch loco construction                                        Chris Bastin
Displays Etc. booked to attend not all confirmed
Lynton & Barnstable Rly, info at www.lynton-rail.co.uk
Scalefour membership and promotion Steve Carter
Brownsmiths, Main Street, Beckley, Rye, E Sussex, TN31 6RG. Pn 01797 620192
Somerset & Dorset Railway Trust; info at www.sdrt.org
Scalefour Society; info at www.scalefour.org
Scale 7 Group membership Sec. Ron Pitts, 30, Wroxall Road, Solihull, W. Mids., B91 1DS. Phone 0121 705 4138
Scale7 South West Coordinator John Day
Wells Railway Fraternity; info at www.railwells.com
Display 40 years of Railwells
EM Gauge Society; info at www.emgs.org.
EM Gauge Society Membership  Iain Hunter
Pendon Museum  www.pendonmuseum.com
Missenden Abbey's Railway Modellers' Weekends, 3 learn how to weekends a year www.missendenrailwaymodellers.org.uk
Railway Children Charity www.railwaychildren.org.uk
South Western Circle www.lswr.org
3mm Society www.3mmsociety.org
The Great Western Society www.didcotrailwaycentre.org.uk
Please note that all details of exhibitors and traders are tentative and should be confirmed prior to the date.
Updated 28.06.2017
Traders booked to attend 2017 invited
Rail-Books
L&B Sales
C&L Finescale, Carrs, Exactoscale
Scalefour Society Stores
Dragon Models
Minerva Model Railways
Eileens Emporium
Roxey Mouldings
Wizard Models (inc MSE, 51L & Comet Models)
Wild Swan Publications What's New
Mousa Models by Bill Bedford
Dart Castings with Monty's figures and MJT
East Somerset Models
Cooper Craft
Aspire Gifts & Models
David Geen and Malcolm Mitchell 4mm loco kits
Pat Banks refreshments
Branchlines
Wells Railway Fraternity Book Sales, in aid of The Railway Children Charity
Modelu, scanner will be in operation
Attwood Aggregates
Please note that all details of exhibitors and traders are tentative and should be confirmed prior to the date.
The Railwells programme will be available to download a week before the show.
Updated 19.07.2017