Photos of 34092 above courtesy of Robin Lush – photographed on 21 February 2015.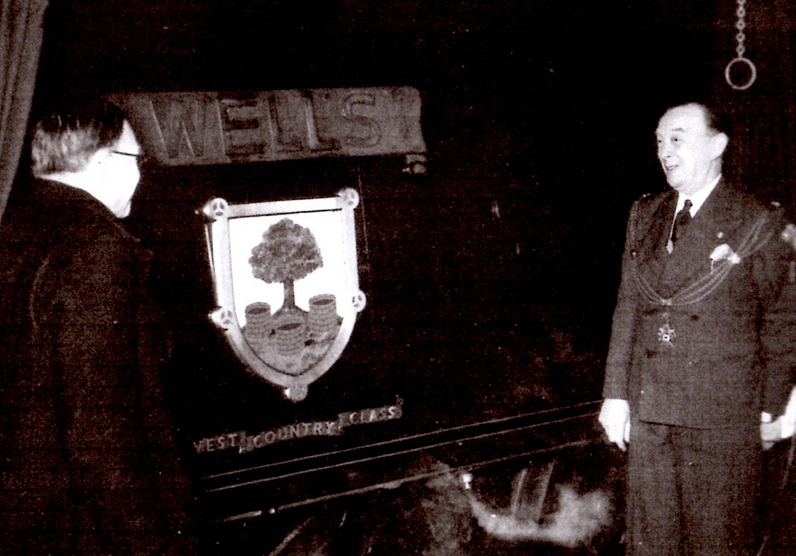 The official naming of 34092 on 25 November 1949. The 'Wells' nameplate is shown being unveiled by the Mayor Alderman E de M Kippax with the Bishop of Bath and Wells the Right Reverend W. Bradfield.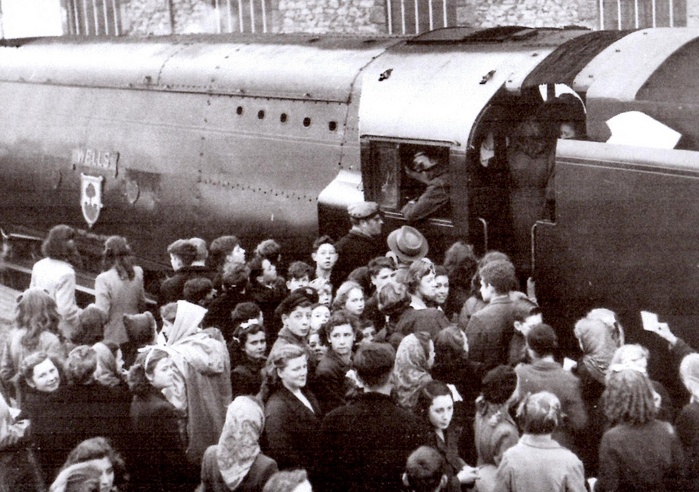 British Railways 34092 CITY OF WELLS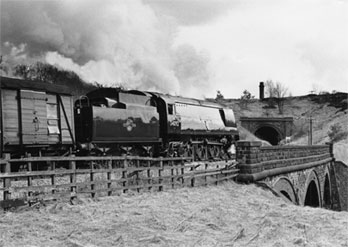 Privately preserved former British Railways Bullied 7P5FA 4-6-2 'West Country' class locomotive number 34092 "City of Wells" of Stewarts Lane MPD passes Blea Moor signal box on the Down Main line with a Steam Locomotive Operators Association 'Cumbrian Mountain Pullman' charter which it worked between Hellifield and Carlisle. 30 March 1980
A very recent photo of 34092 CITY OF WELLS taken by Dr John Sagar. The original owners have now sold the loco to the East Lancashire Railway although they are of course keeping a close interest in it.  John reports that it is in very frequent use on the ELR and also spent a few days back at the North Yorkshire Moors in March.
The only problem has been with a wheel bearing on the tender and because of this 34092 is currently running with a tender borrowed from 34067 TANGMERE (currently being overhauled).  This is interesting as it is actually an ex-Merchant Navy tender – spot the differences in the photo.
34092's 10-year boiler certificate expired at midnight on 2 January 2023 and this photo of her passing Burrs Country Park with the 13:00 from Bury on that day. The target is to have her running again in time for the Hallowe'en trains in late October. She's basically in very good order mechanically, with just things like side-rod bushes needing re-metalling. In the longer term, new tyres for the front bogie wheels are on order. Jock Adams will soon be making a start on overhauling the cab fittings and ELR staff will set about removing the air-smoothed casing to expose the boiler. Since 34092 is a wide firebox engine, there's no need physically to remove the boiler from the frames. No major problems are anticipated with the boiler and it should largely be a matter of replacing the tubes and perhaps doing the odd repair to the thermic siphons in the firebox. Once reassembled, 34092 will be repainted by specialists and should look better than ever!
City of Wells Painting was commissioned in 2008 to mark the 40th Anniversary of The Wells Railway Fraternity and painted by the late artist David Fisher
Number 34092
Name City of Wells
Company SR
Class WC Gauge 4ft 8.5in
Wheel Arrangement 4-6-2
Builder Brighton Works
Built In 1949
Date Preserved 1971
Last Overhauled In 1979
Current Location Keighley & Worth Valley Railway